October 2018
Collaboration with Clare Qualmann and Amy Sharrocks
In partnership with Wellcome Collection, Bloomsbury Festival, Live Art Development Agency London
Daylighting was a four-day programme of events, some of which you can book in advance and others that you can just show up and enjoy. Throughout the programme, we will explore the interconnections of art, activism, performance, politics, health and print, with a live printing workshop, discussions, readings and collective writing.
DAYLIGHTING is a collaborative platform that asks how we might breach or intervene on existing archives and systems of knowledge, to change narratives and amplify new voices. At its core will be the production of DAYLIGHT, a collaborative artwork in the form of a newspaper that explored the presence of women through their art, thinking and speculations. With contributions by Jade Montserrat, Ivor Mackaskill, Feminist Duration Reading Group and Diana Damian Martin.
DAYLIGHTING investigates the authority of the printed form as we bring a letterpress into the public spaces of the Wellcome Collection, to live print pages in response to history's ongoing omissions, exploring cracks in the narratives and daylighting new ones. Letterpress as a medium for printed artwork takes time and care, assembling letters, making decisions, physically handling, moving, setting type to create deep impressions on the page and in the archive.
This project explored the interconnections of art, activism, performance, politics, health and print, in a live printing workshop supported with events, talks, reading groups and collective writing.
With artists OOMK, Women of Colour Index Reading Group, F*Choir, Joy Gregory, award winning public historian Kelly Foster, archivist and historian Lesley Hall and the Wellcome Zine Club.
Through the paper we explored the way in which bodies are represented in public archives, the way in which an archive structures and shapes the knowledge that we share and receive. We asked how we might challenge the inheritances of the systems of classification that are used to arrange and order the knowledge that represents our bodies. How might we collectively resist the inheritances of western imperialism inherent in our archives?
Joy Gregory talk with Wom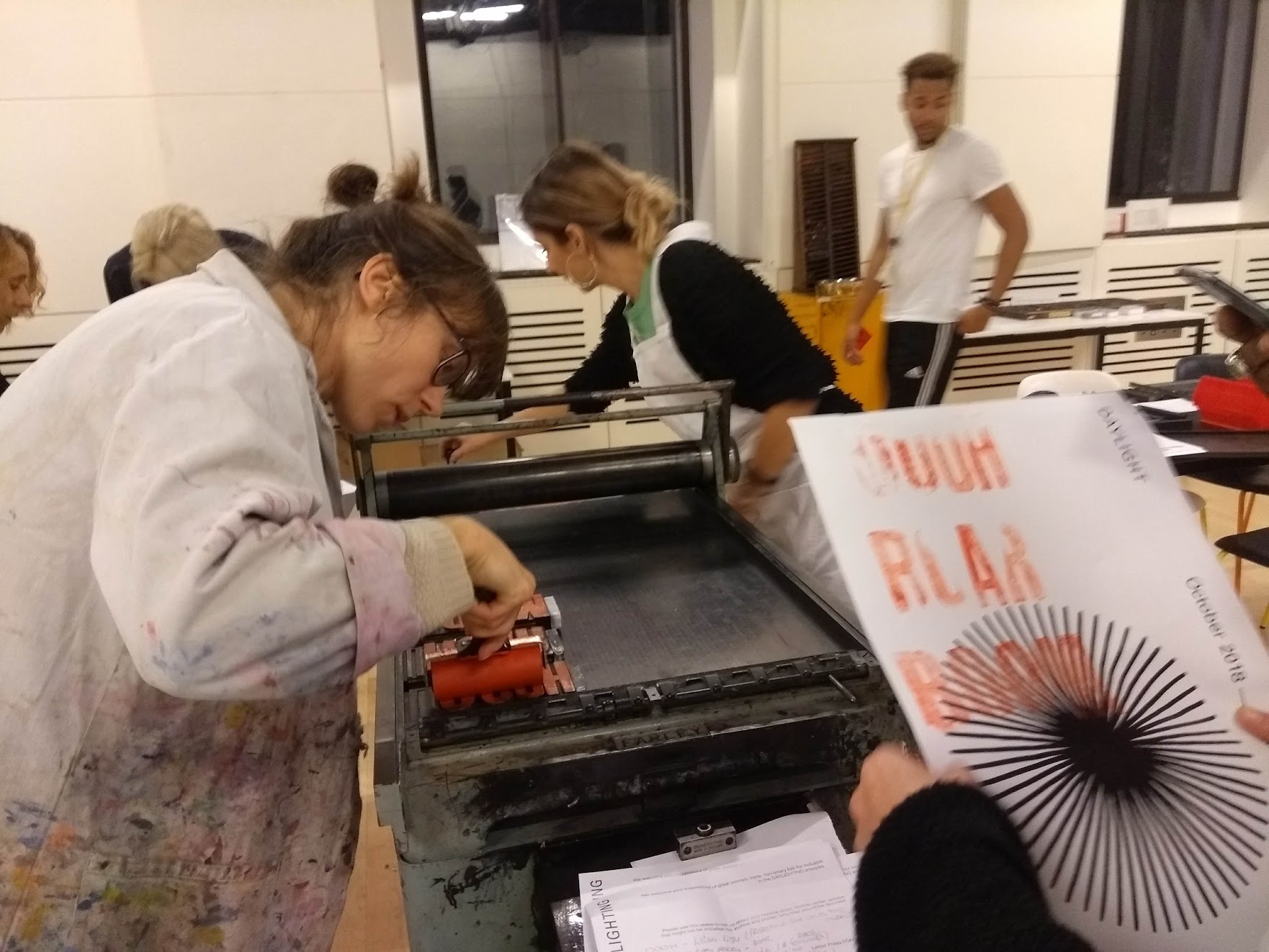 Clare performing live printing on the press
Printed Names (insert)
Support Systems Reading Group on the final day
The printing room
DAYLIGHTING